EXTENDED SALE: 50% OFF & FREE SHIPPING
Over 7,000+ VERIFIED 5 Star Reviews
I want to start off by saying Pillar Styles are amazing! Seriously.  The quality, now that deserves a whole other rating. The pictures do not do it justice.  If I could give it 10 stars I would. Its stunning and my fiance loves it.  If you are looking for something totally different that's great quality and not breaking the bank, this is ring for you.  1000% satisfied!

Gabrielle H.
Pillar Styles were an absolute pleasure to work with!  I received my ring about 5 business days and its absolutely PERFECT AND STUNNING. I know my Fiance will love it! Thank you so much for being easy to work with and having my product shipped on time.

Kenni B.
LOVE IT! It is a beautiful ring that was perfect for my soon to be husband. He loves it, too! It's simple, but not boring. Its unique, but not flashy. It fits his personality perfect. It will be a great ring we can pass on to our children. Everything arrived quickly with no worries of not receiving it before the Big Day!

Ashley E.
My husband and I recently got married and I purchased his ring from Pillar Styles and couldn't be happier. It's so beautiful and everything he wanted. Ava was unbelievably kind and went out of her way to make sure we were satisfied. Thanks again! 

Chandrika P.
I bought this ring for my husband after he lost his wedding band. He loves it! The ring is very substantial and such a unique and lovely color! I have had an excellent experience with Pillar Styles. They have great customer service and are very prompt in answering any questions you may have! Highly recommend!

Jesse W.
I love the ring and so does my husband. I wanted to get him a special wedding band rather than a plain traditional ring. When I saw the Damascus style ring I knew it was meant for him. I feel like it's symbolic of the 2 of us being 1 together. He liked the idea. Thanks so much for this perfect gift.

Samantha D.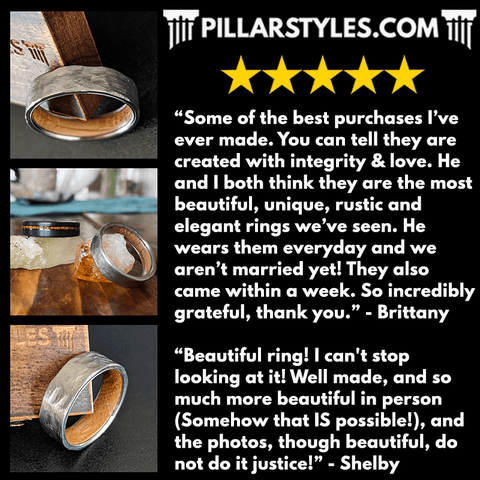 Silver Hammered Mens Whiskey Barrel Ring
View Here
Silver Forest Etched Tungsten Wood Ring
View Here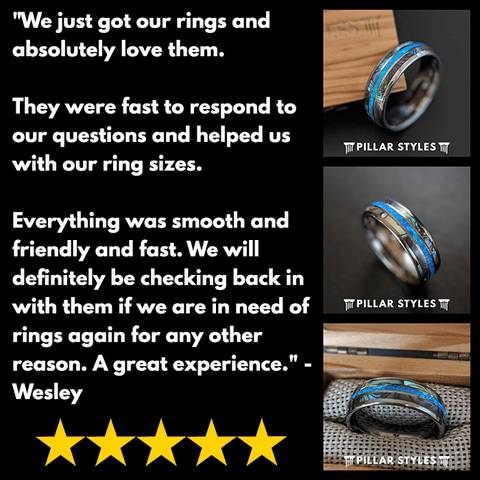 Blue Opal & Abalone Shell Tungsten Ring
View Here
CONGRATULATIONS
It could be because you recently got engaged, renewing your vows, or just searching for a perfect gift for that special someone. Whatever your reason, we're happy to showcase our elegant and unique wedding rings that have been perfected over the years.  You'll discover a little bit of everything from Whiskey Barrel Rings to Tungsten Opal rings.  We're always striving to create something special that gives you the "wow" feeling every day you wear it. 
Our Main Goal?  Simply put - to make sure you receive the "velvet glove" experience that goes beyond a purchase. We pride ourselves in our commitment to the very best customer service to make it as stress free and enjoyable as possible. We're always an e-mail or phone call away 7 days a week. In addition, your ring includes an ironclad lifetime warranty!
Questions? e-Mail PillarStyles@gmail.com or text 442-777-3498
Read Our 5 Star Reviews
You're Covered with Our Extensive Lifetime Warranty
This ring is absolutely stunning! I looked around everywhere for something perfect, and found it here! They were so helpful and sweet, and the shipping was so quick. He put so much love into my engagement ring, I wanted just as much love in his wedding ring. Clearly I found it in this shop!

Kayla C.
I loved this band from the moment I found it!  Thankfully my husband loved it just as much. He's been a baseball coach for 19 years.  The customer service I was given was beyond amazing! Thank you so much for all your help. We love it!

Brandy M.
An absolute eye-catcher. Fascinatingly beautiful. In every sense. No wonder that he is the bestseller. He fits me like a glove and wears very comfortable. And when the light of the sun or a lamp falls on him, he shines beautifully. He is very well-worked. I am very excited and will definitely look into this shop again and again.

- Erin B.
They were very helpful, responded quickly to my message, and expedited the ring to arrive before Christmas. I can't wait to show my finance. It looks classy and well made. I like that it's 6mm wide, which was very challenging to find as well. So happy with the purchase!

Shaina K.
My partner absolutely adores this ring. They can't wear metal, and our engagement was pretty laid back, so for Christmas I wanted to get us nice engagement rings and this could not have been any more perfect for them. It is even more stunning in person, and they show it off to everyone. Thank you!

Chandler W.
Do not hesitate to order from them! Immediately after I ordered my product, I got a confirmation email from them.  She's super sweet, and answered all of my questions/concerns immediately. Shipping was super fast and the ring is perfect.  Great quality, great customer service. I can't wait to give it to my husband!

Illyanna U.
Quality is amazing! My husband to be was really looking for something unique and this ring is perfect!  He's been wearing for a month and loves it.  Also, fast shipping, and excellent communication with Pillar Styles!

Brittany M.
Exceeded my expectations! My soon to be Hubby loves his ring. It is elegant yet, edgy since the metal isn't super shiny. I'm obsessed and so happy I purchased. Also, shipping was amazing and the communication was excellent. I will be recommending this shop to all my engaged friends.

Jannine G.
Thank you so much! My Fiance loves the ring. They were so helpful.  The ring is beautiful, exactly like the pictures. I definitely recommend going through Pillar Styles for quality service and quick responses.

Mikayla T.